WhatsApp is one of the best platforms that are always working on new features to enhance user experience and for more productivity.
One such amazing feature was added recently by WhatsApp management, and in these modern days, the internet can't keep calm about it. If you are thinking what's about what we are discussing, yes, we are talking about WhatsApp Channels, and it can undoubtedly be a game-changer.
WhatsApp Channels are an intriguing feature, particularly due to their private nature. They offer a unique avenue for individuals and organizations to send exclusive one-way messages to their dedicated followers. If you're eager to harness this potent feature, without any delay, let's delve into the seamless process of creating WhatsApp Channels in minutes.
How to Create a WhatsApp Channel?
Regardless of whether you use an Android or iOS operating system device, the method for creating a WhatsApp Channel remains the same. No need for apprehension on this front. Just a few straightforward steps to follow, and you'll be all set:
To initiate the WhatsApp Channel creation process, open WhatsApp on your Android or iOS device and navigate to the Updates tab.
Within this tab, you'll notice a dedicated Channels section denoted by a plus icon. Simply tap on this plus icon.
From the options presented, select 'Create channel' to commence setting up your WhatsApp Channel.
On your first attempt, a helpful popup window with instructions will appear. Go ahead and click on 'Continue' to proceed.
Now, similar to WhatsApp groups, you'll find a range of customization choices at your disposal. Begin by providing a unique Channel name, an engaging Channel description, and don't forget to set a profile picture. Finally, tap on the 'Create channel' button to finalize the setup.
By following these straightforward steps, you've now successfully crafted your inaugural WhatsApp Channel. The process is indeed that uncomplicated. However, it's crucial to bear in mind that all messages sent through your Channel are public. Anyone who chooses to follow your Channel will have access to its content.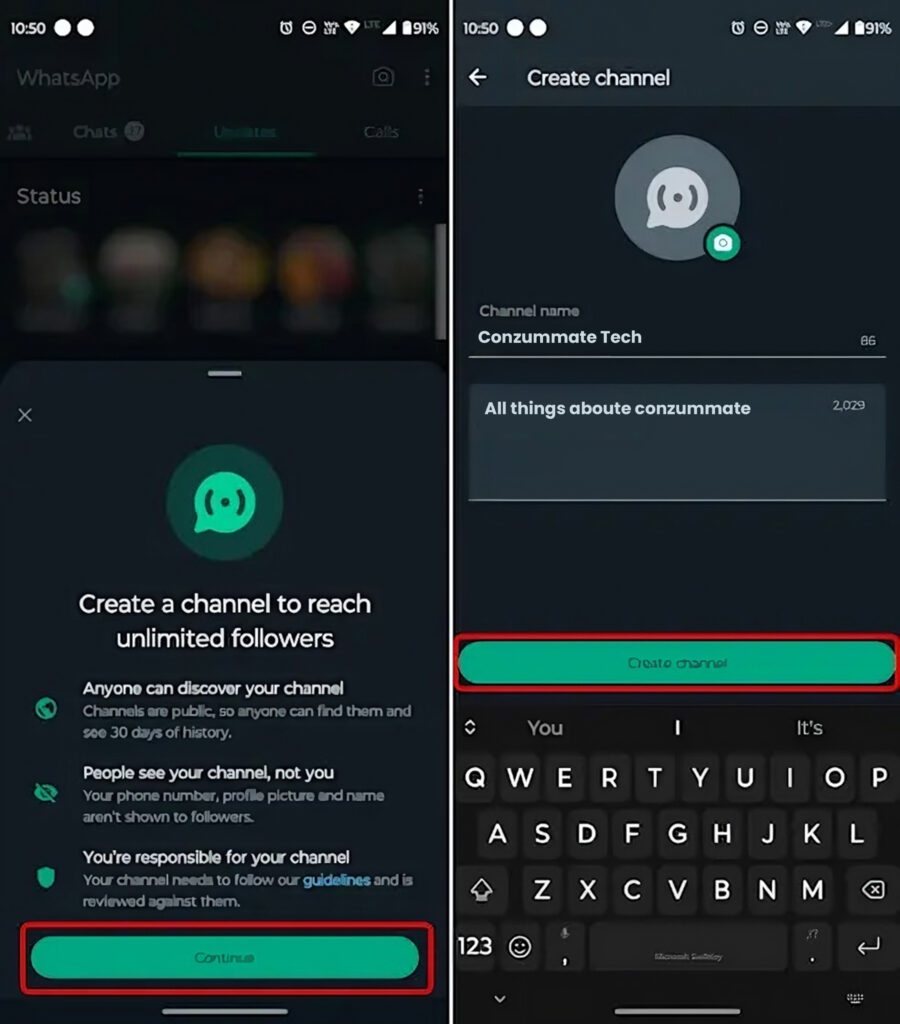 How to Share WhatsApp Channel with More People
Now that you have learned how to create a good WhatsApp Channel, it is vital to also know how to share it with more people to grow your following organically. No need to break a sweat; WhatsApp's user-friendly interface streamlines the entire process. Sharing your WhatsApp Channel is a breeze as well. Let's swiftly walk through the steps:
Once your WhatsApp Channel is successfully set up, locate it within the "Updates" tab.
Access your Channel, then proceed to tap the Channel link button positioned at the upper right corner.
Upon tapping, you'll be presented with a quartet of options, namely "Send link via WhatsApp," "Share to my status," "Copy link," and "Share link." Choose the option that aligns with your preferences, and you're good to go. It's as simple as that.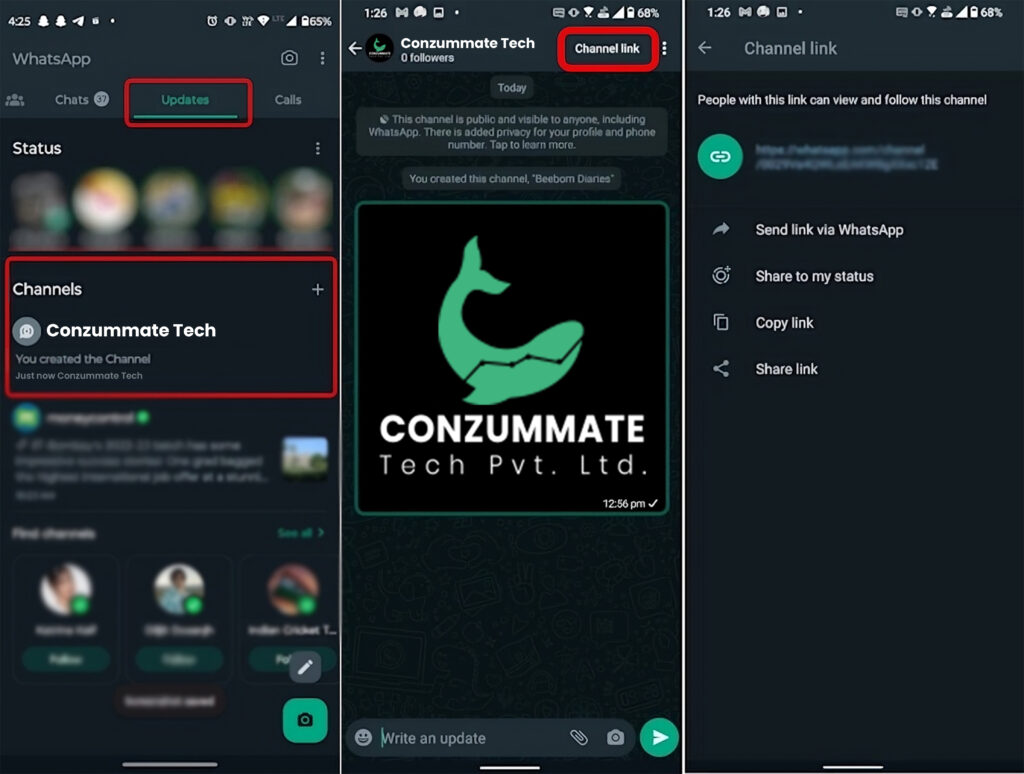 How to Delete or Remove WhatsApp Channel
Should you believe that the purpose of the WhatsApp Channel you've established has been accomplished and wish to remove it, you can indeed do so. Here's a simple guide to follow: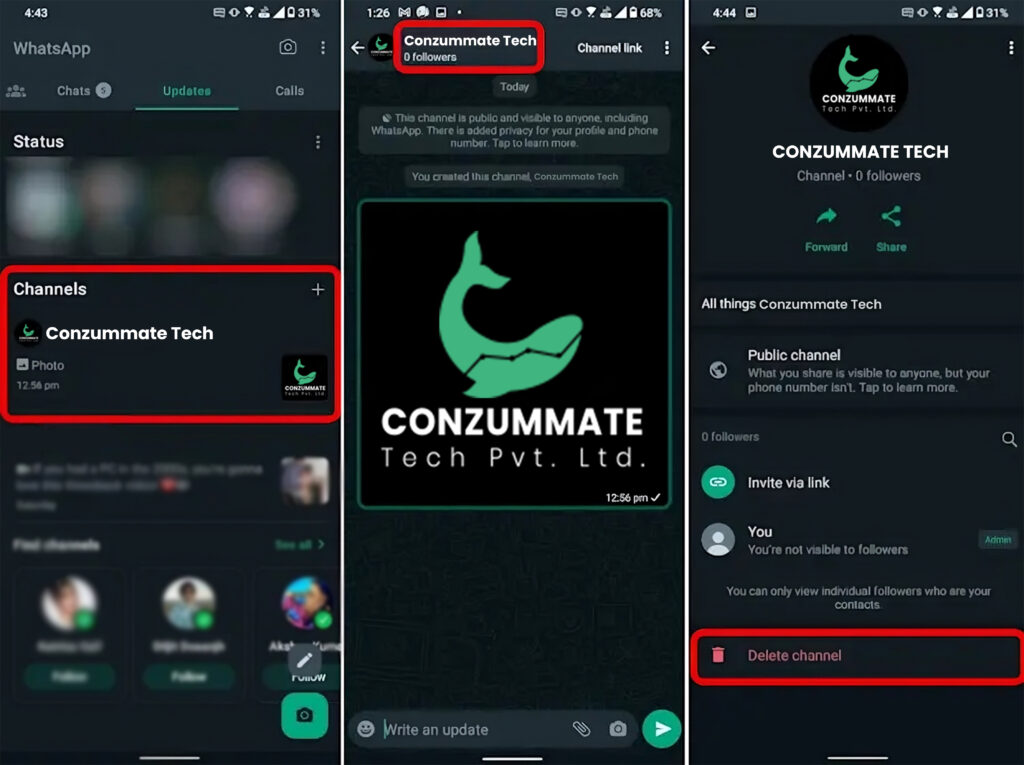 Access Your Channel: Navigate to the "Updates" tab and locate your WhatsApp Channel.
Channel Settings: Tap on your Channel to enter its settings.
Delete Channel: Within the Channel settings, you'll find an option to delete the Channel. Click on it.
Confirmation: WhatsApp will ask you to confirm the deletion. Confirm your decision, and your Channel will be deleted.
Note: It is important to note that once deleted, your Channel's content and data cannot be recovered. So, be certain that you want to proceed with the deletion before confirming.
(FAQs) Frequently Asked Questions
1. How can we promote WhatsApp channels?
Unlock the Power of WhatsApp Marketing: Connect with Your Audience Effectively by creating a WhatsApp Channel. With an astounding 98% open rate, WhatsApp is the ideal platform for broadcasting promotional messages and offers, delivering unrivalled potential to expand your reach and elevate your sales.
2. What are the functions of WhatsApp Channel?
As a WhatsApp Channel owner, you can share the latest updates with your followers directly on the app. Conversely, as a subscriber, you have the privilege of discovering and subscribing to your preferred or favourite Channels. This means you'll receive all pertinent updates directly through the WhatsApp application, all while WhatsApp takes care of your privacy.
3. How do I use WhatsApp channel?
Open WhatsApp on your phone, and go to the Updates tab. Tap on the "plus" icon, and select Create Channel. Tap Get Started, and continue through the onscreen prompts.
4. How does WhatsApp Channels work?
WhatsApp Channels are a one-way broadcast platform for admins to send text, photos, videos, and stickers. Channels can be found in a new tab where you'll find the Status and channels you choose to follow.
5. Can I discover new channels related to my interests?
There's also a searchable directory where you can find channels you want to follow. For instance, you can search for hobbies, your favourite sports teams, and news from local organizations. Channels can also be accessed through invite links that you can share with anyone in your contacts.
6. Is the WhatsApp Channel Available in Pakistan and India?
Yes, WhatsApp Channels are available in Pakistan as of September 2023. You can find them in the Updates tab of your WhatsApp app. Businesses can leverage this feature to enhance communication with customers and prospects.
7. Is the WhatsApp Channel Available in the United Kingdom and the United States?
Yes, WhatsApp Channels are available in the United Kingdom and the United States as of September 2023. This feature is now available in over 150 countries. Businesses in these regions can utilize this feature for effective customer communication and engagement.